I can't get enough of wild garlic this year and trying out new ways to cook it has become a bit of an obsession!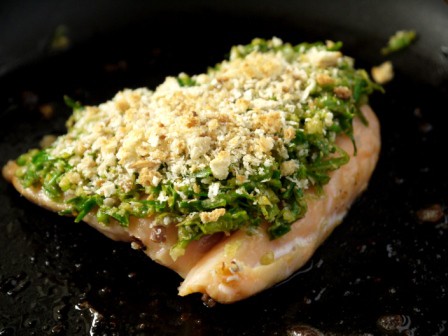 So far, I've tried this crust baked on salmon fillets and grilled on lamb chops, but why not try it perched on a chicken breast, stuffed & baked in a large field mushroom or thickly spread under a layer of melted cheese on toast? If you come up with any other glorious ways to use it, please leave a comment below so I can try it out!
Print
Wild Garlic & Walnut Crust (for Fish, Lamb, Chicken or Mushroom)
Ingredients
A good handful of wild garlic

leaves, stems & flowers

A handful of walnut halves

A good slug of olive oil

A handful of breadcrumbs
Instructions
Blitz the first 3 ingredients in a food processor or chop really finely with a sharp knife, mixing the oil in when done.

Season well with salt & black pepper.

Cook your chop/breast/fillet under a grill or in a frying pan until almost done.

Spread generously with the garlic and walnut paste. Cover in breadcrumbs and grill for a few minutes until the breadcrumbs are golden brown and the meat/fish is fully cooked.
We are surrounded by Three Cornered Leek, but you should get great results with whichever type of wild garlic you have growing locally.